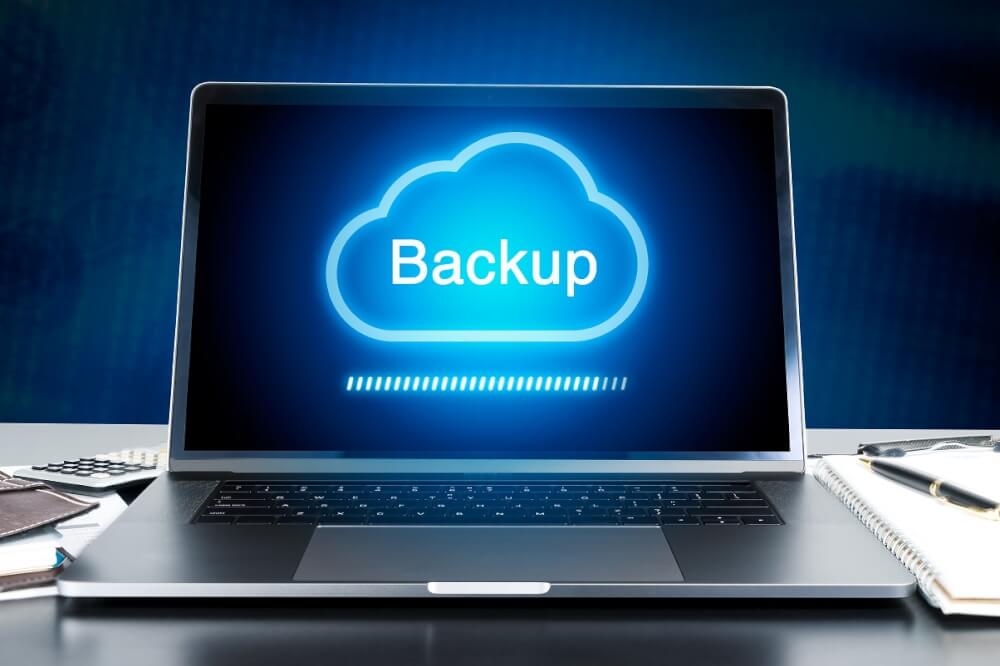 Why make an online Backup?
Whether you're working on a website, updating your records or working on a new video project. An external backup in a different location is a must have for everyone. This is how you prevent data loss.
In this blog post, we shine a light on what you can consider with an online cloud backup, and in what ways the service of MijnBackupPartner.nl can make a difference.
Let's start with the question of why you should have an online backup.
This answer may seem obvious, but as a first reason, an online backup prevents your work loss. You will probably have had it happen that your afternoon work is lost due to an error or interruption. This is not only very annoying since you have to do it all over again, but can also cause not only loss of revenue. But also for even more misery.
Ways in which data loss can occur
Data loss can occur in many ways. Common reasons include as described below.
Coffee or another liquid spills on your laptop causing the PC to crash.
The hard drive of a PC breaks down causing you to lose everything.
A laptop or computer is stolen
Hard fall of a laptop in public transport or elsewhere. Especially hard drives are very sensitive to falls.
Incorrect deletion of files or photos.

Of course, there are many more ways data loss can occur, which is always particularly annoying and can cause problems. It happens to everyone that a text, article, project or version is lost that was just needed in the next meeting or appointment. This can look unprofessional and can also cost you clients you worked hard for.
Existing backup options that may already be in use
You have probably already thought about creating an online backup from which you can retrieve files. Think of an external hard drive or USB stick, another computer / NAS or a service like Google Drive or Microsoft OneDrive. All of these ways have drawbacks with respect to our service from MijnBackupPartner.nl. A USB flash drive or external hard drive is a backup you cannot rely on. An external hard drive or USB flash drive can also break due to a fall, by breaking a connection or cable. Or simply lost or stolen. Think of a backpack with your laptop in it and your external hard drive that you lose in an unguarded moment.
Also, a backup that you have arranged via an external hard drive is not reliable as it is still susceptible to human error, think of copying it incorrectly, and is simply a hassle to remember to copy all your work every week, for example. You want to set this up once and not have to think about it the rest of the time. Until you really need it.
A backup that you have set up on a NAS or another location inside or outside your network also has its drawbacks. For example, the knowledge you need to set it all up correctly. And having a backup inside your network is susceptible to not only power outages, but also theft and malware. Also, in the NAS itself you will need a hard drive which can also break down. And the circle repeats itself again.
Perhaps you are thinking about or already using a service like Microsoft Onedrive or Google Drive. These two of course also backup files you have in the cloud. But these services also have a few drawbacks. First, you often only have a certain number of Gigabytes available. With most services this is 15 gigabytes which you also share with mail and storage of other media. Secondly, the data you store in these free services can be used for marketing purposes. Obviously, you don't want this if you are also storing customer data in here or using it to store your work. And thirdly, specific folders are not configurable as you can with our online cloud backup from MijnBackupPartner.nl.
The benefits of online cloud backup
All the disadvantages of other backup solutions discussed in the previous headings are absent with online cloud backup from MijnBackupPartner.nl. With the use of our backup service you will not only see change how you proceed, but also the convenience of our service. After configuration it is an easy process that runs in the background without problems. This not only brings you peace of mind but also less work than you would have with other backup solutions. See the reasons below for how we achieve this.
Servers and services in the Netherlands and multiple locations around the world
Other backup services are often stored in the United States, the privacy and rights regulations here are different than in the Netherlands and the European Union where the data is better protected and not bound by the same laws. We have the core of our services in data centers in multiple locations in the Netherlands and around the world. And it's even selectable where you want to write the data to. So if you prefer not to have a certain country or location then this is easy to change. This gives you a lot of freedom and security in even the most unthinkable situations such as a regional disaster.
Set it up the way you want it and how important it is to be backed up
Another great advantage of our online backup tool is that it is incredibly configurable to your needs. Back up the entire computer, a specific file or folder or an entire hard drive on multiple devices. Set how often you want a backup task to run, and receive an email with a report each time this task has run. Freedom of choice and customization are wishes MijnBackupPartner.nl has taken seriously when developing the service.
Safe and fast, without worrying
With our online cloud backup we use a number of smart techniques and settings that ensure that your work is not only safe but also nice to use. With most purposes it's just a matter of setting it up for half an hour and then forgetting about it. The backup tool starts with your computer in the background and works in such a way that you don't have to worry about it, provided it is set up properly. And of course we would like to help you with that too. Just in Dutch and with employees who are trained to guide you as best as possible.
The backup service is also fast because of the smart splitting of packages that need to be sent to the backup location of your choice. This makes it possible to quickly upload large files to MijnBackupPartner.nl's servers even when your internet connection is not optimal.And security is achieved by using a secure connection between your computer and the MijnBackupPartner.nl backup servers.
And the military AES - 256 encryption used to securely store the data on the servers. Also, the first layer of security can be set with of course a password and two factor authentication. Which requires it to enter a one-time access code that changes every 30 seconds on your smartphone.
Try the backup tool of MijnBackupPartner.nl yourself and be convinced by our service. For questions, you can always come online to chat with one of our employees.